Why Macedonia has been embroiled in a decades-long row with Greece about its name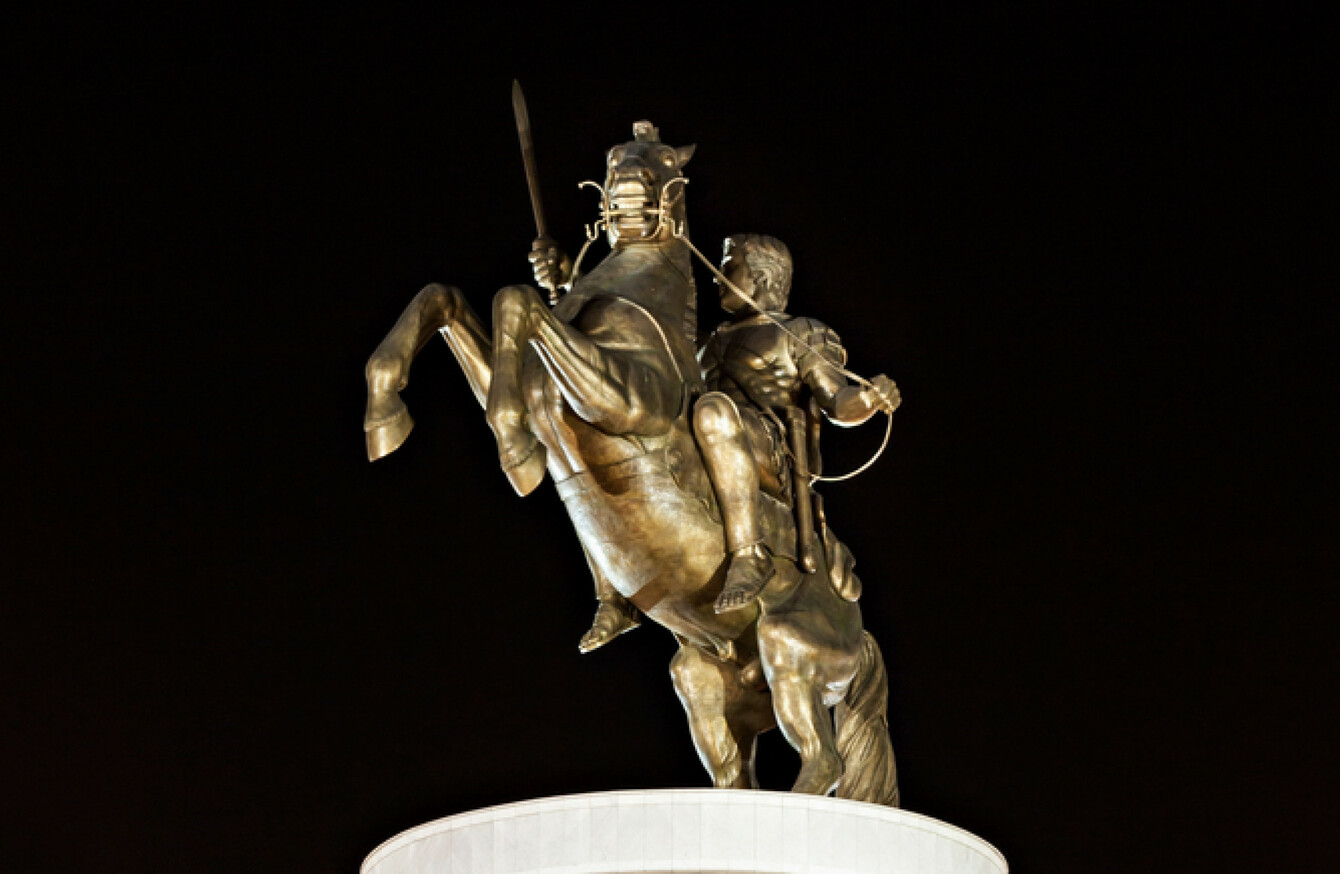 A statue of a warrior on a horse, believed to be of Alexander the Great, in Skopje, Macedonia.
Image: Saiko3p via Shutterstock
A statue of a warrior on a horse, believed to be of Alexander the Great, in Skopje, Macedonia.
Image: Saiko3p via Shutterstock
WHEN MACEDONIA IS at EU summits, global councils, or other international gathering of countries' heads of state, it's known as FYROM – the Former Yugoslav Republic of Macedonia.
The reason for this is to clarify that it's not Macedonia – a province in the north of Greece that shares a border with the FYROM.
The Macedonia moniker has been the source of a diplomatic issue for both Greek and FYROM governments. For years, Greece has feared that the shared name could lead to the FYROM laying claim to Greece's Macedonia as its own. These fears have led to FYROM being blocked from membership of NATO and from closer integration with the European Union.
But, for the first time in almost 30 years, a solution to the dispute is more likely than ever before, as negotiating teams from Greece and Macedonia meet today to discuss the issue, with representatives from the UN playing referee.
The Greek media have reported that the two prime ministers, Zoran Zaev and Alexis Tsipras, will also meet in Davos in late January in an attempt to resolve the name dispute.
Rewind a bit
In the early 1900s, the Ottoman Empire was entering its final era after seven centuries of spreading across what is now Eastern Europe and parts of the Middle East (they also laid claim to coastal areas of north Africa).
After the Balkan War and the First World War, the regions that were under the helm of the Ottoman Empire were divided and the country now known as Macedonia formed part of the Kingdom of Yugoslavia.
But it had developed a sense of its own identity. After the Second World War, it was re-established as a republic, which became the Socialist Federal Republic of Yugoslavia in 1963.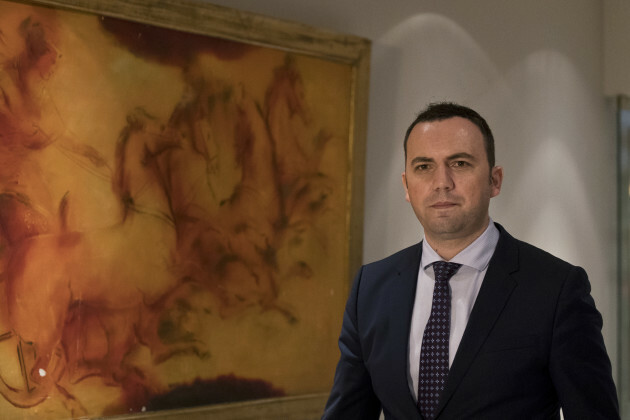 Deputy Prime Minister of Macedonia Bujar Osmani arrives for a briefing with reporters in Athens, on Tuesday, 9 January 2018. Source: AP/PA Images
Macedonia proclaimed its independence from what was formerly Yugoslavia in September 1991, but its recognition by the international community was immediately blocked by Greece, which claimed the new country's name as part of its own ancient heritage.
It is only with the adoption of a provisional name 'FYROM' that its finally admitted into the United Nations in April 1993.
In February 1994, Greece imposed an economic embargo on Macedonia, including stopping the landlocked country from using the port of Thessaloniki, its main trading post, which is located in the Greek region of Macedonia.
Flying the flag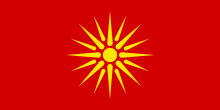 Macedonia's 'Vergina Sun' flag. Source: Wikipedia
In a separate yet related dispute, Greece also demanded that Macedonia remove the rayed sun of Vergina from its flag – claiming it to be an ancient Greek symbol – as well as certain articles from its constitution.
In September 1995, the neighbours signed an accord opening the way for a normalisation of their trade and political ties, including the flag dispute – but the impasse over the Macedonia name remained unresolved.
The following month they opened liaison offices in their respective capitals and a new Macedonian flag – with the controversial sun replaced – is raised for the first time at the UN.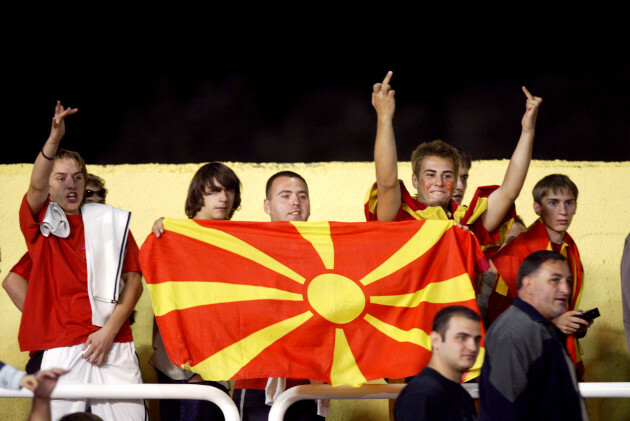 Macedonia's soccer fans taunt their English opposition during a European Championship qualifier in 2004. Source: EMPICS Sport
In December 2005, Macedonia became a candidate for membership of the European Union, but Greece blocked the start of negotiations, which must be agreed unanimously.
Three years later in April 2008, it presented itself as a candidate for membership of the Nato military alliance, under the provisional name, but is again met with a Greek veto.
Relations sink even further in 2011 after the government erected a huge statue of a warrior on a horse in the Macedonian capital of Skopje. Although it wasn't officially confirmed by the Macedonian government, it bears a resemblance of, and is generally accepted to be Alexander the Great.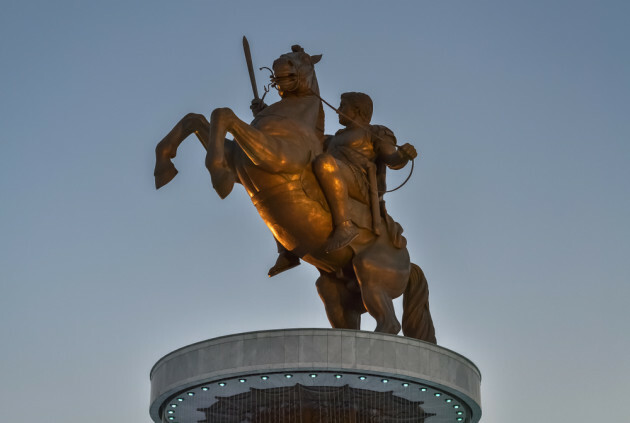 Source: Shutterstock/benjaminec
In the same way that it had problems with the former Macedonian flag, Athens perceived this as an effort to appropriate the ancient conqueror, one of Greece's greatest military heroes.
The flood of migrants into Europe has also fuelled the tensions. In April 2016 Athens accused Skopje of using excessive force against hundreds of migrants trying to cross the border into Macedonia.
A New Hope
But soon after his election in June 2017, new Macedonian Prime Minister Zoran Zaev promises a new push to end the dispute and relaunch the drive for EU and Nato membership.
It's hoped that a simple addition to the republic's name, such as 'New Macedonia' or 'Upper Macedonia', will satisfy both sides enough to strike a deal. If a deal is reached, it could lead to huge strides forward for FYROM, as Greece is expected to lift its objections to them joining the EU and Nato if a deal is reached.
"I know that if we have friendly relations and a good approach then a solution is feasible," Zaev told reporters ahead of today.
After all this time, let's hope that he's right.
– With reporting from AFP