The first summer 2018 Croke Park gig is… Michael Bublé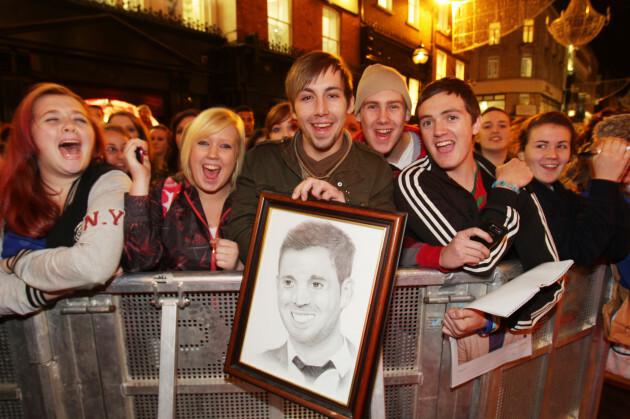 Matthew Larkin waits with a drawing of Michael Buble before the Canadian switched on the Christmas lights on Grafton Street in 2011. Source: Leon Farrell/Rolling.ie
"THE UNDISPUTED KING of Cool" is coming to Croke Park next year, according to organisers MCD.
Who's that you may ask? Well, it's Michael Bublé, apparently.
It's the first announced gig for Croker in summer 2018 and it will set you back €89.50 if you want to head along.
The concert was first announced on the Ian Dempsey Breakfast Show on Today FM this morning with the broadcaster teasing listeners in advance of the big news.
After putting us all out of our misery, Dempsey said the gig would take place on a 7 July next summer
"So there's something to look forward to he," he said, promising a "balmy" evening.
Details then followed from MCD and Croke Park who said it will be "the undisputed 'King of Cool's only Irish show in 2018″.
Croke Park said that the gig would be "fully seated", presumably meaning there'll be no standing on the famous turf and that seats will be placed on the field.
It won't be Bublé's first stadium show in Dublin having previously sold out the Aviva Stadium in 2010. It's his first time playing on the northside arena though and he seems excited:
I can't wait to come over to see my fans in Dublin and play Croke Park for my largest ever Irish show! You guys have been patient and I can't thank you enough for all your support. And for those of you that haven't seen me live, well… I just haven't met you yet!
Tickets go on sale this Friday at 9am.