Gardaí investigating suspicious fire at landmark manor owned by JP McManus
Firefighters working on the fire last night
GARDAÍ ARE INVESTIGATING a suspicious fire at a landmark residence owned by billionaire horse racing tycoon JP McManus.
The blaze which destroyed the former Bishop's Palace, North Circular Road, Limerick, broke out shortly before 11.30pm.
The eight-bedroom manor, Kilmoyle House, was the former residence of Catholic Limerick bishops but has not been occupied for years.
McManus purchased it in 2014 for an undisclosed price after it went on the market for €1.1m.
It was sold by property developer Aidan Brooks who purchased it in 2007 for €26m making it one of the country's most expensive properties. Brooks had previously planned to build a nursing home and retirement village on the site.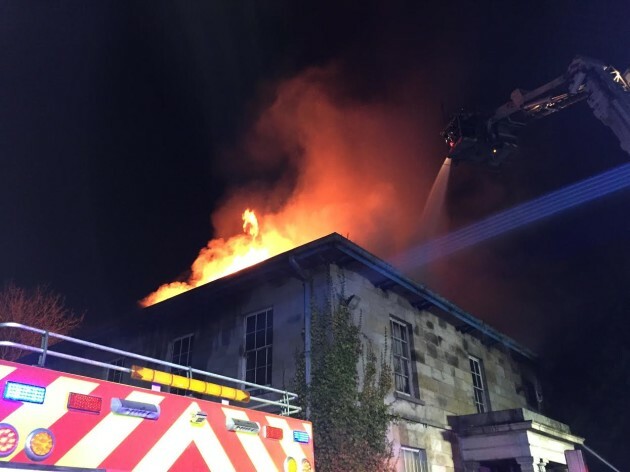 Brooks, (46), also from Limerick, but who runs a vast property portfolio from London, retained five acres of land around Kilmoyle House, leaving one acre as part of the sale to McManus. He also owns Portland House, the former Church of Ireland's bishop's residence, located next door.
Built around 1845, Kilmoyle House has 7,159 square feet of living space, and is listed as a building of important architectural heritage.
The three-storey property, which includes one acre of land, was destroyed in last night's fire.
Firefighters attached to Limerick city and county fire service fought the flames for four hours before bringing it under control.
"Two fire trucks, and a water tanker vehicle were dispatched to the scene. On arrival the house was well alight," said a source.
Fire crews also used an aerial extendable ladder to fight the fire from above as it swept through the building.
"The house has been extensively damaged. Gardai have sealed the house off pending a technical examination this morning," the source added.
No one was injured.
Mayorstone Gardai are investigating the circumstances surrounding the cause of the fire.